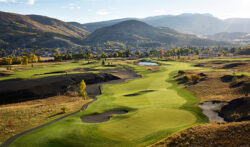 The United States has a number of golf vacations which would enchant all golf lovers. Wanted to share this list of Top 25 United States golf visits by a friend of ours. We have yet to visit all of these, but you can see our golf trip recaps on our golf vacation blog.
Here are the top 25 golf vacations:
1. Myrtle Beach
This location is referred to as the Miniature Golf Course Capitol of the world. There are about sixty accommodations, eighty-five golf courses and four golf schools in Myrtle Beach. This is one perfect place for a golf vacation for all the golf lovers. There are two alternatives for accommodation: rent a condo or check in to a hotel. One hotel that I would recommend is the Holiday Inn as it has a lovely beach front view. It has five pools and you may also get free continental breakfast. Majority of the people in the country come to this location to relax and play golf.
2. Palm Beach
Palm Beach is one of the locations that have first class golf courses like the TPC at Heron Bay and PGA National Courses. This is the location that is not only famous for golf courses but also shopping and lovely beaches. The West Palm Beach resort is the place to stay when you are in Palm Beach. The Breakers West Palm Beach golf course is well-known golf course in Palm Beach. Palm Beach is a home to an excellent art museum, Professional Golfers Associations and excellent Japanese garden.
3. Tucson
Tucson is the 32nd largest city that is located in Arizona. Tucson is the right place for you to spend your golf vacation because it has bright sunshine and excellent golf. Playing golf in Tucson would be different because it would be a play in a desert. Some good resorts are JW Marriott Starr Pass Resort & Spa, Omni Tucson National Golf Resort & Spa, the Westin La Paloma Resort and Spa, etc. Of course the most expensive of all would be the Cany Ranch Resort.
4. Traverse City
The Traverse City golf is located amidst the hill, water and woods. It is one great place to play golf. Traverse City is where many people head to when they are looking for a golf vacation as well as a place to relax. Park Place Hotel is a good place to stay when you are in Traverse City. Some excellent golf courses here are Antrim Dells Golf, High Pointe Golf Club, etc.
5. Scottsdale
There is huge number of golf courses in Arizona. Scottsdale in Arizona is one perfect place for golf vacation. It has lovely blue sky, light and mild breeze that makes Scottsdale a perfect place to play golf. Private as well as public courses are scattered around Scottsdale. Some hotels which you can check out are the Hilton Scottsdale Arizona Hotel, Westin Kierland Resort and Spa, etc.
6. San Diego
San Diego is truly one golf vacation which you should not miss. It has fifty private, fifty semi-private courses and more than fifty public courses to its name. This place is perfect for playing golf but it is not limited to golf courses only. There are other places to check out like the Seaworld, San Diego Zoo and Wild Animal Park. There's even a beach close by and that is the Mission Beach. The hotels you can stay at are Hilton Hotel, Park Manor Suites, etc. It is one great place to go to when vacationing with your grandchildren.
7. Saint George
The location near Las Vegas has 11 golf courses which are near to one another. Saint George has bright sunlight, blue sky and colorful settings which makes this town a perfect place for golfing. It only has one private golf course but a number of golf courses in this town have been granted esteemed awards. Crystal Inn, Hilton Garden Inn, Courtyard by Marriot is few hotels which you can stay at while in this town.
Check out our visit to Idaho and Wyoming golf courses here.
8. Renditions in Davidsonville
The Renditions in Davidsonville is a very well-known Golf course because of the eighteen holes there which are the exact copy of a golf course where quite a few important championships have been held. It started in the end of the year 2001 as a public golf course. Davidsonville may only have one golf course but visiting this place is worth it. Comfort Inn, Hampton Inn, Springhill Suites are few hotels which you can check in to when in Davidsonville.
9. Pinehurst, Southern Pines, and Aberdeen
These are the small towns that have more than forty well-known and classy golf courses. They have a perfect setting for playing golf as the sky is blue and the surrounding is colorful with a lot of greenery. This location has been renowned as a first class golf course location. The courses here are public as well as private. Some courses are part of the resorts. Whispering woods, Anderson creek, and Legacy are few well-known courses. You can stay at the Residence Inn by Marriot when you are in the area.
Pinehurst #2 is our favorite.  Grab a vintage Pinehurst golf hat here.
10. Pebble Beach
Pebble Beach in California is a place where tournament action first took place in the late 1920s. A huge number of tournaments have taken place in the golf course of Pebble Beach. The US Open has taken place in this location four times. The 18th Hole of Pebble Beach is very popular among the Golfers. Places where you can stay are The Lodge at Pebble Beach, The Inn at Spanish Bay, etc.  Our favorite US Open was at Oakmont in 2016.
11. Palm Springs
You will find more than a hundred golf courses at Coachella Valley in Palm Springs. This location has spectacular desert landscape, low humidity and plenty of sunshine. Few well-known golf courses in Palm Springs consist of Westin Mission Hills, Tahquitz Creek, Shadow Mountain, Marriot Desert Springs, LaQuinta Resort, Landmark, Golf center at Palm Desert Cathedral Canyon, etc. L'Horizon, Villa Royale Inn, Hyatt Regency Suites are some of the hotels where you can put up your family and yourself in when you are at Palm Springs.
12. Orlando
Orlando in Florida is considered as the Golf Capital of the World. There are excellent golf courses on the suburbs of Orlando Metro region. It has approximate a hundred and fifty golf courses. This location has more to it than just golf courses. There are Sea World, Disney World, Universal Studios, EPCOT and MGM Studios in Orlando. Some popular examples are North Shore, Mission, Champions Gate, etc. The hotels where you can stay at are Marriot Orlando, Westin grand Bohemian, etc. So this is one perfect place to go to with your family.
13. Maui
Maui, an island in Hawaii is home to United States' finest golf courses. Usually the climate there is very good but sometimes the wind blows a little hard. If you are tired from playing golf then you can relax or take a swim in the beaches in Maui. After all, Hawaii is well known for its beaches. Maui Seaside Hotel, Sunseeker Resort, etc, are places to stay at when in Maui.
14. Las Vegas
We all know Las Vegas to be a city of entertainment and gambling but not everyone knows that it is also a great place to be to play golf. There are number of courses in the city as well as on its suburbs. Most of the courses are resort or public. So a golf vacation in Las Vegas can get you all the fun that one can get as you can have lots of entertainment when in this city. Few hotels that you can book yourself in are Marriott Suites, Venetian Hotel Resort, The Mirage, etc.
15. Kiawah Island
It has been said that Kiawah Island holds some of the best golf courses in the United States. You can try out tennis, beaches, bike trails, etc when you are tired of playing golf. When in Kiawah Island, check out the designs of five contemporary golf course designers. Holiday Inn, The Sanctuary, Kiawah Island Golf and Tennis Resort are few places where you can think of staying when in Kiawah Island.  The 2012 PGA Championship took place at the Ocean Course.  We brought back a brand new 94th PGA Championship golf hat, want one?
16. Hilton Head
Hilton Head is an Island where many families go to for their vacations. It has forty golf courses and as such, you can spend your golf vacation hoping from one golf course to another. Choose from various kinds of resorts ranging from private to public, to semi-private to resort-type courses. The Beaches in Hilton Head are also very clean and safe so when you are done with golfing you can always go to the beaches. Hilton Oceanfront resort is one great place to stay at.
17. Destin
The Jewel of the Emerald Coast is the name that is given to Destin because it has water that is emerald blue in colors and lovely white sandy beaches. It was once a tiny fishing village but now it has become a well-known destination for golf, tennis and beaches. There are four excellent golf courses in the Sandestin Golf and Beach Resort and they are The Raven, The Links, Burnt Pine and Baytowne. You can consider staying at Days Inn or Emerald towers.
18. Dallas – Fort Worth
Here you will find golf courses that are private, semi-private and public. It is a place where you can expect finest golf courses. Apart from golf courses there are public parks and lakes, museums and different other types of entertainment. You can stay at the Crowne Plaza Suites Arlington.
19. Columbus, Ohio
There are more that 80 public golf courses and 35 private courses in Columbus. According to the Golf Digest in the year 1993, EagleSticks Championship 18 holes course was the top public golf course in Ohio. When in Columbus you can stay at Hyatt Regency, Crowne Plaza Hotel or Hampton Inn and Suites.
20. Colorado Springs
Apart from the Seven Falls, Cheyenne Mountain Zoo and Garden of Gods, Colorado Springs is also famous for its golf courses. It does not have many golf courses but still, it's the quality that counts and not the quantity. The scenery in Colorado Springs is excellent and the beauty is there is natural and not artificial. You can stay at The Broadmoor Hotel or Sheraton Colorado Springs Hotel.  Colorado is great, also view our golf travel blog trip to Montana.
21. Coeur d'Alene
It is a town which is considered as the promising location for golf courses. Accommodation at any of the four well-known and excellent resorts would be worth it: Coeur d'Alene Resort, Stoneridge in Blanchard, Hidden Lakes in Sandpoint and Highlands in neighboring Post Falls. The magnificent Coeur d'Alene Resort Golf Course has been built near the lake, creek and hills. There are lovely lowers, fairways and greenery here. It is one great place to relax too.
22. Chicago
On the suburbs of Chicago there are more than a hundred and ten golf courses. There are also a huge number of championship courses that have 36 or more holes. After playing golf there are other forms of entertainment as the city of Chicago has a huge number of entertainments. The Holiday Inn Express Hotel and Suites or Hilton Garden Inn are places to stay in if you happen to be on a golf vacation in Chicago.
23. Austin
Apart from being the Live Music Capital of the world, Austin is also one great place to go for a golf vacation. You will find four excellent award winning courses in Austin at the Bartin Creek Golf Resort. These courses are the traditional Crenshar Cliffside, the lovely Palmer lakeside, the latest Fazio Canyons and the high-ranking Fazio Foothills. As for the accommodation, you can stay at Omni Hotel, the Driskill Hotel or the Intercontinental Stephen F Austin Hotel.
24. Augusta
This is one town that will give golfers the feel of pro golf legends and pro golf. Here there are public as well as private golf courses. You can stay at the Marriot Augusta Hotel, Ramada inn and Convention Center or Country Inn and Suites.
25. Atlanta
You will find a huge number of excellent golf courses in Atlanta. Apart from golf there are water parks, theme parks and various historical places.
Swati Banerjee is the owner of Writing Ink that services clients from across the globe. Please take a minute to visit [http://www.writing-ink.com] to experience how the bright young minds here make magic with words!